Production Overview for Providers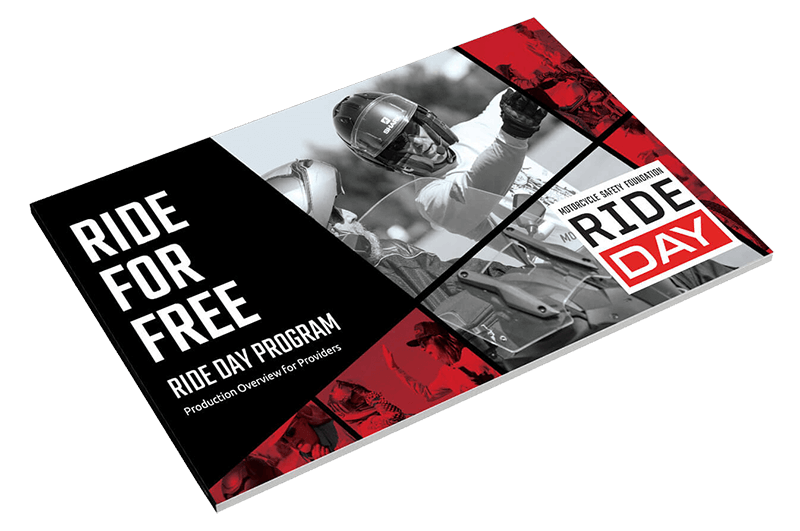 No-pressure, no-hassle environment to try a motorcycle or check your riding skills
Appropriate motorcycle, range, coaching, helmet and gloves all provided
An easy, fun way to get a taste of rider training
On-motorcycle activities are run by MSF-certified coaches
We recommend hosting RIDE Days as a free event for participants
Sponsor/Provider Benefits
Promote your site, engaging with potential students and the motorcycling community (including clubs, groups) in your area
Partner with local motorcycle dealer(s) and related businesses in your area
Drive participation in upcoming MSF RiderCourse offerings
Watch Coach RIDE Day Overview
AN INVITATION TO YOUR OPEN HOUSE
Motorcycle Safety Foundation RIDE Day is an open house at MSF-recognized range locations. RIDE Day events feature two MSF-based features — MOTO Intro and SKILLS Check. These can be presented together (range space permitting) or as two separate RIDE Day events.
MOTO Intro is designed as a 'first ride' experience, allowing participants to try riding without any of the typical obstacles that make a first experience difficult. This is conducted by MSF certified coaches.
SKILLS Check is for current, licensed riders, on their own motorcycle, riding an MSF-based exercise. This allows them to evaluate their own skills and receive feedback from an MSF-certified RiderCoach.
Coaches are not training riders, rather introducing them, in a friendly way, to the benefits of formal training.
Conclude on-motorcycle activity with next steps for future rider training.
Keep it casual, fun, and positive – allow the sampling of motorcycle riding and rider training.
Invite local powersport businesses to put up motorcycle, gear, or other relevant displays.
Consider music, food trucks to enhance the overall experience.
Invite local motor officers, motorcycle clubs, and other relevant organizations.
Other elements such as music, food vendors, dealer displays recommended, but must be organized at a local level.
A first-ride experience in 30 minutes or less
Minimum range size of 80×100
Motorcycle, helmet, gloves, range and coach provided
Coach to participant ratio: 1 to 1
Top of Mind Considerations
Be a welcoming, personable, friendly, and responsive coach
Understand that participants may have had past experience(s) that were challenging or discourteous
PATIENCE! PERSISTENCE! CALM-TUTORING! TOLERANCE!
Less "is" more. Use fewer, better words.
Do not say "PULL" (brake or clutch) as riders often pull on bar.
Terminology impacts understanding and performance:

Clutch "EEEEEAAAAAZE"  to friction point
Throttle "ROLL-ON" / "ROLL-OFF"   "Roll-On to GO/Roll-Off to SLOW"
Brake "SQUEEEEEZE" Squeeze-in fingers: 1, 2, 3, 4 (vs grab) "PUT BRAKE AWAY"  When not in use.

Never run in front of rider or try to "catch" them
"SQUEEZE the Clutch!" if uncomfortable/out-of-control
BRAKE: a smooth "SQUEEEEEZE" then "Put Brake Away"
Tutor 'lessons of opportunity': Too much front load of techniques/strategies hinders experience.
No details of shifting, posture, or countersteer
Pull them out of path of travel if you need to talk to them
At end of session, stop riders in straight line
Coaches shut off bike. Ask riders to squeeze brake and dismount
Coaches then move bike to start point ensuring in neutral
A skills check experience in 30-minutes or less
Minimum range size of 80×100
Participant rides their personal motorcycle
Two coaches can manage multiple riders
*Not intended for a novice rider who is learning how to ride for the first time.
Top of Mind Considerations
Be a welcoming, personable, friendly, and responsive coach
Understand that participants may have had past experience(s) that were challenging or discourteous
PATIENCE! PERSISTENCE! CALM-TUTORING! TOLERANCE!
Coaching situational awareness: focus on (i) rider coming toward you; (ii) other riders, (iii) your Co-Coaches.
Providing timely tips, "Less is more. Fewer, better words."
Tutor 'lessons of opportunity': stalling, grabbing front brake, eyes down, head-turns, use of rear brake, etc.

Too many tips of techniques/strategies hinders the experience.
Our goal is to entice and encourage the benefit of additional classes to become a life-long learner.

If needing a "chat" with rider, pull them out of path of travel.
Remember, being chatty… delays ride time and spoils experience. (Participants learn best by doing… not listening.)
Event Production Timeline
Present event idea to your team and get their support
Find partner(s) — local m/c dealers or others with an interest in riding Select date(s)
Gather promotable database from partners, agree on event specifics to promote
Divide tasks and costs
Local event listing, integrate into normal promotions, news release to media, local clubs, police departments, others
Place posters, fliers, banners where people can find them
Social media: Post through your business, partners' business, personal channels — make it easy to share
Paid promos: social, local, however you can connect with relevant audience
Waivers/QR codes for sign-in, other logistic items
Other event features — food truck, bike displays, club displays, what can you add to engage people?
Reminders to local clubs and others
Check to ensure insurance, other elements in place
Supply list and schedule: Who is doing what — check-in, MOTO Intro, SKILLS Check, etc.
Check range, set up drills 
Set up registration, loaner gear area
Water, refreshments ready
Team meeting for final review
Coaches help greet participants until needed on range — whole team to keep every element positive
Thank you and offer options for next steps
Showing Participants a Good Time
Your team for RIDE Day activations can be a combination of MSF-certified RiderCoaches, DirtBike School Coaches and non-coach help. Key is to ensure everyone is friendly, welcoming, and ready to show participants a good time.
| FUNCTION | # OF STAFF | ROLE |
| --- | --- | --- |
| Welcome/Waivers | 1-2 | Welcome guests, sign waivers, book time if needed, direct them to next step |
| Gear Up/Down | 1 | Help MOTO Intro participants with helmet and other gear |
| Traffic | 1 | Optional, but helps to engage participants and direct them |
| MOTO Intro | 4-6 | Coaches (RC or DBS) work 1-on-1 through on-motorcycle experience |
| SKILLS Check | 1-2 | RiderCoach(es) run SC drill |
| Next Steps | 1 | Dedicated team member to share upcoming courses, manage sign-ups and answer questions |
MSF-Provided Promotional Assets
MSF & RIDE Day Logos
Event photos for use in social and other promotions
Video assets – public-facing
Video assets – overviews for your team and partners
Templates for event fliers, posters, and social media 
Event Waiver – QR code for those over 18, hard copy for those under 18
MSF insurance – contact Laurie Brehm at lbrehm@msf-usa.org
Public Facing Promotional Video:
RIDE Day from the Motorcycle Safety Foundation
Utilize Assets MSF Supplies
Flier, poster, and social media post templates are customizable for your event information
Work with local dealerships and businesses to reach potential participants
Utilized MSF-Supplied Assets
Use images and video to create social media posts for your and your partner channels
Use built-in promotional tools to promote the event and grow social exposure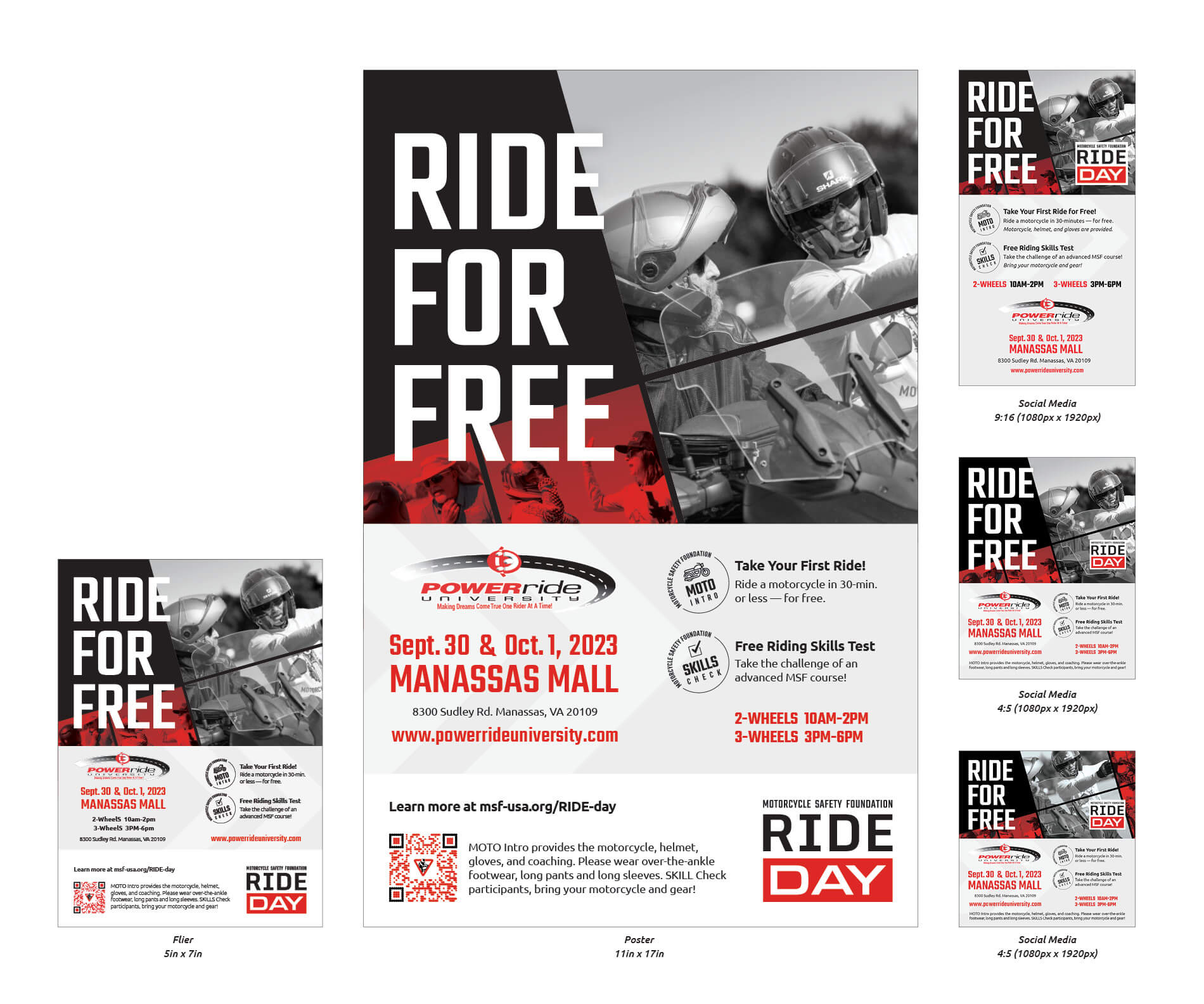 Give-Aways: Banners, Stickers, T-shirts, Hats/Caps
To order contact Corey Eastman ceastman@msf-usa.org

Review the full document
All RIDE Day producers are welcome to use the event Checklist to help define roles and responsibilities among your team.
Let Corey Eastman at the MSF ceastman@msf-usa.org know how many participants attended and which activations they participated in
Have participants fill out post-ride survey
Event hashtags #MSFRideDay #motorcyclesafetyfoundation
Include the database information into your regular communications plans
Follow participants on your social channels
Share participant database with partners after the event
Offer options for training at the RIDE Day event
Follow up with participants with a thank you email or phone call

Answer their questions
Offer additional training recommendations

Let them know when additional RIDE Days are happening and ask them to share the information