MSF to Co-sponsor ifz-MSF 10th International Motorcycle Safety Conference in Fall of 2014
IRVINE, Calif., Sep. 8, 2014 – The Motorcycle Safety Foundation is once again co-sponsoring the annual ifz-MSF International Motorcycle Safety Conference with the conference organizer, Germany's Institute for Motorcycle Safety (ifz). The conference is scheduled to take place on September 29 and 30 in Cologne, Germany.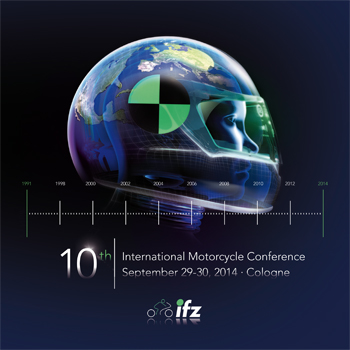 This conference affords the perfect forum for the exchange of knowledge in the field of motorcycle safety. International motorcycle safety experts, researchers, policy-makers and representatives from academia and the motorcycle industry will be on-hand to present papers and conduct discussions on a variety of motorcycle safety-related topics.
"This two-day conference will offer participants the opportunity to be exposed to the latest results from the field of motorcycle research," said ifz Director Achim Kuschefski. "Our focus is to gain new insights, get to the core of issues and discuss findings among this international team of experts.&rdquo
This year, MSF staff members will be chairing two of the sessions. Dr. Ray Ochs, MSF's vice president of training systems, will be moderating two presentations: "Motorcycle Sliding Friction for Accident Reconstruction&rdquo and "Motorcycle Velocity Determination from Impact Damage." Dr. Jim Heideman, MSF's director of licensing programs, will be chairing a session that includes presentations titled: "Analysis of the Accident Scenario of Powered Two-Wheelers on the Basis of Real Accidents,rdquo; "Retrospective Analysis of Fatal Motorcycle Accidents and Derivation of Protective Measures in Complex Braking Maneuvers," and "Motorcycle Stability Control."
Finally, MSF President Tim Buche, who is a member of the conference's Steering Committee, will be sharing closing comments along with an MSF update for all conference attendees. More information on the ifz and the conference can be found at www.ifz.de.
The Motorcycle Safety Foundation® promotes safety through rider training and education, operator licensing tests and public information programs. The MSF works with the federal government, state agencies, the military and others to offer training for all skill levels so riders can enjoy a lifetime of safe, responsible motorcycling. Standards established by the MSF® have been recognized worldwide since 1973.
The MSF is a not-for-profit organization sponsored by BMW, BRP, Ducati, Harley-Davidson, Honda, Kawasaki, KTM, Piaggio, Polaris Motorcycles, Suzuki, Triumph and Yamaha. For safety information or to enroll in the RiderCourse nearest you, visit msf-usa.org or call (800) 446-9227.