Motorcycle Safety Foundation Issues its Motorcycle Operator Manual In Spanish
IRVINE, Calif., March 5, 2015 – Hispanics comprise seven percent of American motorcyclists overall, and eleven percent of younger riders – those of Generations X and Y. As part of its long-standing policy of reaching out to riders of all backgrounds and ethnicities, the Motorcycle Safety Foundation has released a Spanish-language version of its Motorcycle Operator Manual.
MSF's "MOM" is used by motor vehicle agencies in 41 states as a study guide for motorcycle license applicants, and has been a part of MSF's inventory of reference materials on motorcycle operation for the past four decades. The MOM covers riding gear, basic rules-of-the-road, navigating intersections, crash-avoidance strategies, carrying passengers, impaired riding, and vehicle troubleshooting, plus supplemental information on the unique characteristics of three-wheeled motorcycles.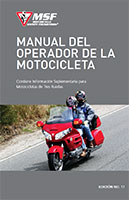 The cover of the new Spanish version of MSF's Motorcycle Operator Manual
The Spanish version of the MOM, along with Spanish versions of other key MSF instructional materials, is available for free download from MSF's online library here.
"We hope that states with a sizeable population of Spanish-speaking motorcyclists and potential motorcyclists will consider offering copies of this new publication at their motor vehicle offices," said Ken Glaser, MSF's director of special projects. States can request a print-ready, live-file version of the Spanish MOM by emailing kglaser@msf-usa.org.
The Motorcycle Safety Foundation® promotes safety through rider training and education, operator licensing tests and public information programs. The MSF works with the federal government, state agencies, the military and others to offer training for all skill levels so riders can enjoy a lifetime of safe, responsible motorcycling. Standards established by the MSF® have been recognized worldwide since 1973.
The MSF is a not-for-profit organization sponsored by BMW, BRP, Ducati, Harley-Davidson, Honda, Kawasaki, KTM, Piaggio, Polaris Motorcycles, Suzuki, Triumph and Yamaha. For safety information or to enroll in the RiderCourse nearest you, visit msf-usa.org or call (800) 446-9227.