IRVINE, Calif., May 21, 2020 – The entire MSF staff and thousands of RiderCoaches across America urge all motorists, whether on two wheels, four, or more, to be safe and take care of one another on the road this weekend.
"Memorial Day is when we honor military personnel who died while serving and protecting our freedoms," said Erik Pritchard, MSF president and CEO. "Their sacrifices and our responsibilities to each other should be top-of-mind this weekend. So, if you have to go somewhere, we're asking everyone to look out for each other, give everyone else some space, and get there safely."
The MSF has important safety tips for motorcyclists and safety tips for car and truck drivers.
While pandemic stay-at-home orders have reduced traffic in many areas, many states are reopening and this holiday weekend could see more congestion both around cities and outside of them, where people are seeking recreation.
Motorcyclists, you can reduce your risk with some important safety measures:
Increase visibility. Wear brightly colored or contrasting upper-body apparel and helmets. If riding at night, wear clothing with reflective material and place reflective stickers or strips on your motorcycles. Ensure the headlight is working, and use the high beam, even during daylight hours, when appropriate. Position yourself in traffic so you're seen by drivers. Use your turn signals and communicate your intentions to others. Flash your brake lights when slowing and before you are planning on coming to a stop. And never assume that a car driver actually sees you, even if they appear to be making eye contact.
Gear up every ride. Know that safety gear starts with a good helmet, less than five years old and made to the standards of the Department of Transportation. Look for that DOT label on the helmet. The helmet can have a face shield that offers eye protection. Otherwise, ensure that eye protection with a set of motorcycle goggles. Regular glasses may shatter, making things worse. Add motorcycle gloves, a motorcycle jacket that's abrasion resistant and has body armor in key places, pants with those same features, and over-the-ankle moto boots that protect your feet.
Never drink and ride. Stay away from alcohol, drugs, even some medications, which can lead to impairment while riding. It's a big factor in many motorcycle crashes.
Use a street-riding strategy. Take extra care heading into and going through intersections, where many crashes occur. Give yourself space and time from other vehicles. Constantly scan and move your eyes, maintaining 360-degree awareness of what's around you.
Obey traffic laws and ride within your limits. Fast, aggressive riding belongs on a racetrack. Share the road. Don't ride too fast for your abilities or too far for your endurance level. When you can, refresh your skills and knowledge with a hands-on RiderCourse or visit the MSF website for a variety of online learning materials. Riders wanting more safety information can even take the MSF Basic eCourse online and/or the MSF Street Strategies eCourse.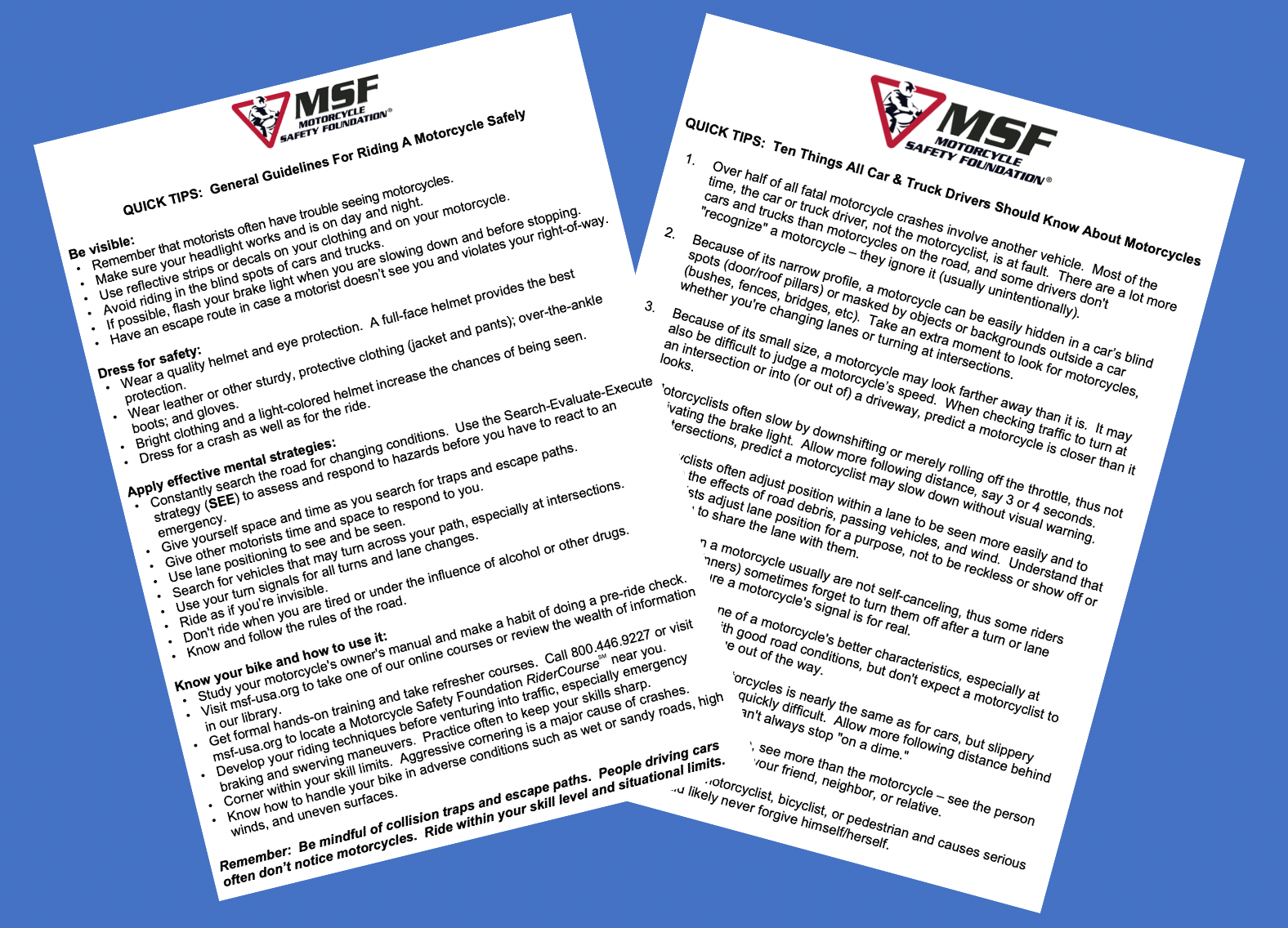 Drivers, you can reduce the risk of a crash with a motorcyclist with some important safety measures:
Look out for motorcyclists. A bike and rider are much narrower than a car and might be in a blind spot. Take that second look for motorcyclists, especially when turning through intersections or changing lanes.
Don't be distracted. Working a mobile phone leads to many crashes in everyday traffic. Distractions from texting or calling or a music app can be fatal for a rider. Same goes for distractions caused by eating, pets, and children. Your focus should be on the road and traffic around you. And, never drink and drive, with the resulting impaired judgment and motor skills.
Give riders plenty of room. Space and time between your car and a motorcyclist's bike really matters. Don't tailgate a rider and don't get too close when you're side by side. Even a small bump with a car can put a motorcycle down. And you're not just hitting a bike; you're hitting a person. Even fully geared up, a rider has far less protection around them.
Know that motorcyclists may be closer than they appear. Being smaller, a rider and bike might look farther away than they are in reality. And it might be harder for you to judge their speed. Consider that when turning through an intersection or pulling out in front of an oncoming motorcyclist.
Know that motorcyclists often adjust their position within their own lane.  Motorcyclists are entitled to use all the space available to them within their lanes. A rider will do this for better visibility, possibly because of wind, and especially to avoid oil and debris on the road. Don't contribute to that debris. If you're carrying things on your roof or in the back of a truck, make sure they're secure and won't be a hazard to a motorcyclist.
For more information on safely sharing the road with motorcyclists, ForCarDrivers.com offers many resources.
"These are challenging times and we're going to do a lot better if we all pull together," said Robert Gladden, MSF vice president of training operations. "Whether you ride or drive, we can all be better, together, at sharing the road and looking out for each other. We want to see everyone have a safe Memorial Day weekend, especially during the last few days of Motorcycle Safety Awareness Month."
The Motorcycle Safety Foundation promotes safety through rider training and education, operator licensing tests, and public information programs. The MSF works with the federal government, state agencies, the military, and others to offer training for all skill levels so riders can enjoy a lifetime of safe, responsible motorcycling. Standards established by the MSF have been recognized worldwide since 1973.
The MSF is a not-for-profit organization endorsed by American Honda Motor Co., Inc.; BMW Motorrad USA; BRP, Inc.; Harley-Davidson Motor Company, Inc.; Indian Motorcycle; Kawasaki Motors Corp., U.S.A.; KTM North America, Inc.; Suzuki Motor of America, Inc.; Triumph Motorcycles America; and Yamaha Motor Corporation, U.S.A. For safety information or to enroll in an MSF Basic RiderCourse near you, or to learn more about the many other MSF course offerings, visit MSF-USA.org or call (800) 446-9227. Follow @msf__usa to keep up with the MSF on Twitter and Instagram.