Motorcycle Safety Foundation Programs Dedicated to Eliminating Motorcyclist Crashes, Injuries and Fatalities New Report Supports Need for More Research, Rider Training and Driver Awareness Initiatives to Increase Motorcyclist Safety
RVINE, Calif., April 24, 2013 – In response to a preliminary report released today by the Governors Highway Safety Association that indicates motorcyclist deaths are projected to increase in 2012, Tim Buche, president and chief executive officer of the Motorcycle Safety Foundation, said, "The numbers released today are a somber reminder that motorcyclist safety should be everyone's responsibility. Each of us must do our part in making good decisions on the road so we can eliminate these needless and tragic motorcycle fatalities. Every roadway user needs to be a trained, alert, and active participant in the traffic mix."
For its part, the Motorcycle Safety Foundation continues its leadership role in initiating and enhancing programs dedicated to the goal of eliminating motorcyclist crashes, injuries and fatalities.
Rider Education & Training System
The MSF has invested $2.4 million since 2010 in research initiatives that support ongoing curriculum development and quality assurance programs for its worldrenowned Rider Education & Training System and Basic RiderCourse℠ motorcyclist training program.
"We continue to increase our understanding of rider and other roadway user behaviors to direct improvements in our curricula that lead to improved student outcomes and a safer riding environment overall," said Dr. Ray Ochs, vice president of training systems for MSF. "We've just completed a significant update to our most popular course, the Basic RiderCourse, with new classroom content focused on rider behavior, risk awareness and risk management. And, we've added new range exercises that focus on earlier acquisition of fundamental skills with an emphasis on the traffic situations that students will encounter on the road."
The enhancements to the Basic RiderCourse include:
Approximately 40 percent increase in content on rider perception and seeking escape paths
Approximately 15 percent increase in practice time for swerving and other collision-avoidance skills
Approximately 30 percent more classroom and range content on negotiating curves and cornering skills
Addition of an eCourse to reach even more current and prospective motorcyclists with the basic cognitive aspects of rider education
MSF and its partners have trained more than 6.7 million new or returning motorcyclists since it began rider training education in 1974.
iBooks:
For those who have motorcyclists in their lives but are not riders themselves, MSF has expanded its distribution of motorcyclist safety educational materials online, with its recently published iBooks.
"Intersection"
"Intersection: Sharing the Road" aims to increase awareness of motorcyclists and scooters on the roadway with unique messages to drivers, commercial drivers, and others.
"Rider Choices"
"Rider Choices" is an interactive discussion tool to help a friend or family member have a serious conversation with a prospective motorcycle rider about a safe way forward. Both are available on iTunes.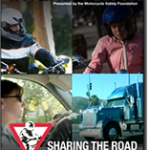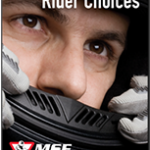 Motorist Awareness and Research
The MSF also promotes safety awareness initiatives aimed at other motorists via www.forcardrivers.com. This targeted website provides safety tips, video instruction, and other resources for companies, individuals who drive a truck for a living, or just a concerned driver.
Engaging in its own research effort, the MSF recently partnered with the Virginia Tech Transportation Institute on the innovative MSF 100 Motorcyclists Naturalistic Study. Video cameras and data acquisition sensors are being used to track the actions of 100 riders over the course of a year to create a comprehensive assessment of the many factors contributing to both crashes and near-crashes and the common everyday riding. MSF seeks to use the results to improve its curricula and expand its other safety countermeasures.
National Motorcycle Safety Fund
Companies, clubs and individuals wishing to donate directly to motorcyclist safety initiatives can contact the National Motorcycle Safety Fund (NMSF), a charitable organization established in 1980 to augment the work of the MSF. The NMSF accepts tax-deductible contributions and applies them to motorcycle safety projects. In the past, the NMSF has provided helmets and alcohol awareness materials to training sites for use by beginning riders during the MSF Basic RiderCourse. NMSF is currently supporting the MSF 100 Motorcyclists Naturalistic Study. One hundred percent of contributions is dedicated to the National Motorcycle Safety Fund – none of the funds is used to cover administration costs. Visit msf-usa.org and click on "Donate" for more information.
The Motorcycle Safety Foundation® promotes safety through rider training and education, operator licensing tests and public information programs. The MSF works with the federal government, state agencies, the military and others to offer training for all skill levels so riders can enjoy a lifetime of safe, responsible motorcycling. Standards established by the MSF® have been recognized worldwide since 1973. The MSF is a not-for-profit organization sponsored by BMW, BRP, Harley-Davidson, Honda, Kawasaki, KTM, Piaggio, Suzuki, Triumph, Victory and Yamaha. For safety information or to enroll in the RiderCourse℠ nearest you, visit www.msf-usa.org or call (800) 446-9227.