ForCarDrivers.com Encourages Drivers to Stay Alert During Motorcycle Safety Awareness Month
IRVINE, Calif. May 7, 2020 – ForCarDrivers.com, a program created by the Motorcycle Safety Foundation, urges car and truck drivers to look out for riders during the month of May and beyond. It's Motorcycle Safety Awareness Month and the traditional start of the riding season, and while the coronavirus pandemic means many are staying at home, there are still motorcyclists out in traffic.
"With many Americans staying home except for essential errands and business, you may find that traffic is much lighter than normal," said Robert Gladden, MSF vice president of training operations. "But we can't let that lull us into a false sense of security, and shouldn't use that as an excuse to speed, whether on two wheels or four."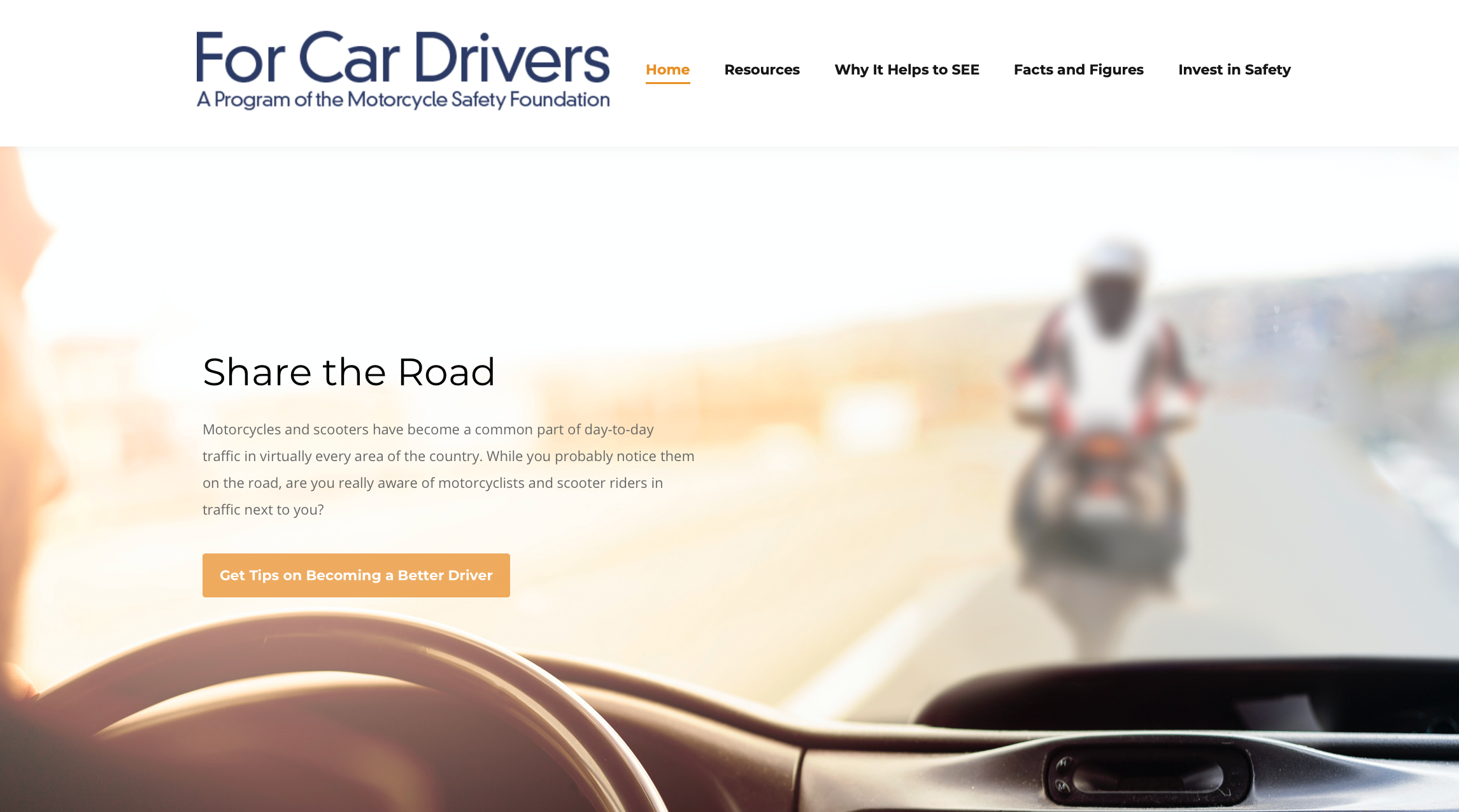 Some states are beginning to reopen, and that can mean more traffic in certain locations nationwide. It's important to remind all motorists that motorcyclists are harder to spot in the traffic mix and drivers should look twice before changing lanes, turning at intersections, and entering or exiting driveways. Crashes typically occur at intersections, and often involve a car or truck driver turning left in front of an oncoming motorcyclist.
According to the National Highway Traffic Safety Administration and the Virginia Tech Transportation Institute, nearly 80 percent of all crashes and near-crashes involve some form of driver inattention in the three seconds before the collisions. Mobile phones, food, children, pets, and even personal grooming are among the distractions that lead to crashes. And past studies have shown that fewer and fewer drivers consistently use turn signals.
"Getting through these tough times, together, is a common theme right now, and that mindset belongs on our roadways as well," Gladden said. "Motorcyclists ask that drivers look out for others on the road by making driving their priority and eliminating distractions. We see that bicycle sales are soaring as people look for more recreational opportunities that allow for social distancing, so drivers can expect to see many Americans on two wheels, both motorized and human-powered. Please look out for all of us."
The Motorcycle Safety Foundation promotes safety through rider training and education, operator licensing tests, and public information programs. The MSF works with the federal government, state agencies, the military, and others to offer training for all skill levels so riders can enjoy a lifetime of safe, responsible motorcycling. Standards established by the MSF have been recognized worldwide since 1973.
The MSF is a not-for-profit organization endorsed by American Honda Motor Co., Inc.; BMW Motorrad USA; BRP, Inc.; Harley-Davidson Motor Company, Inc.; Indian Motorcycle; Kawasaki Motors Corp., U.S.A.; KTM North America, Inc.; Suzuki Motor of America, Inc.; Triumph Motorcycles America; and Yamaha Motor Corporation, U.S.A. For safety information or to enroll in an MSF Basic RiderCourse near you, or to learn more about the many other MSF course offerings, visit MSF-USA.org or call (800) 446-9227.