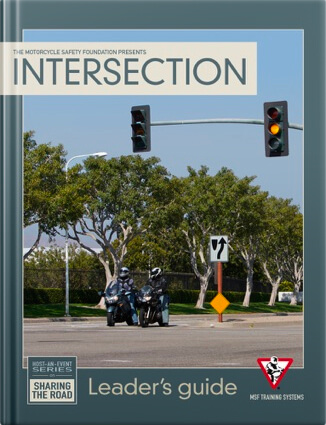 This course is designed by the Motorcycle Safety Foundation (MSF) to assist those interested in preparing for and facilitating a group discussion about all aspects of drivers and commercial drivers sharing the road with motorcyclists.
The MS Intersection module is MS's newest approach to enhancing motorist awareness of motorcycles. The program combines personal stories and character development with a dramatic new look at a crash scene that's all too common. The course contains three separate pathways of instruction for use in driver's education classes for teens, traffic schools for adult drivers and employee orientations for commercial drivers. All three driver modules are also appropriate for motorcycle rider groups to increase their understanding of shared roadway use with various types of drivers. The course includes the Leader's Guide,
Participant Guide, and Quick Tips brochure. Prepare for and facilitate your group discussion by purchasing the Intersection interactive guide and downloading related course material to include everything you need, all conveniently stored on your
tablet.